Sections 1-7 will transform your practice and help you get amazing results for your patients, help you retain clients and grow your business.
AND
Section 8 has been designed to supercharge your business growth. The course will teach you the one key to marketing that most Therapists miss, but it will also teach you how to retain patients. Most Therapy businesses focus on getting more people in, but then neglect the current patients.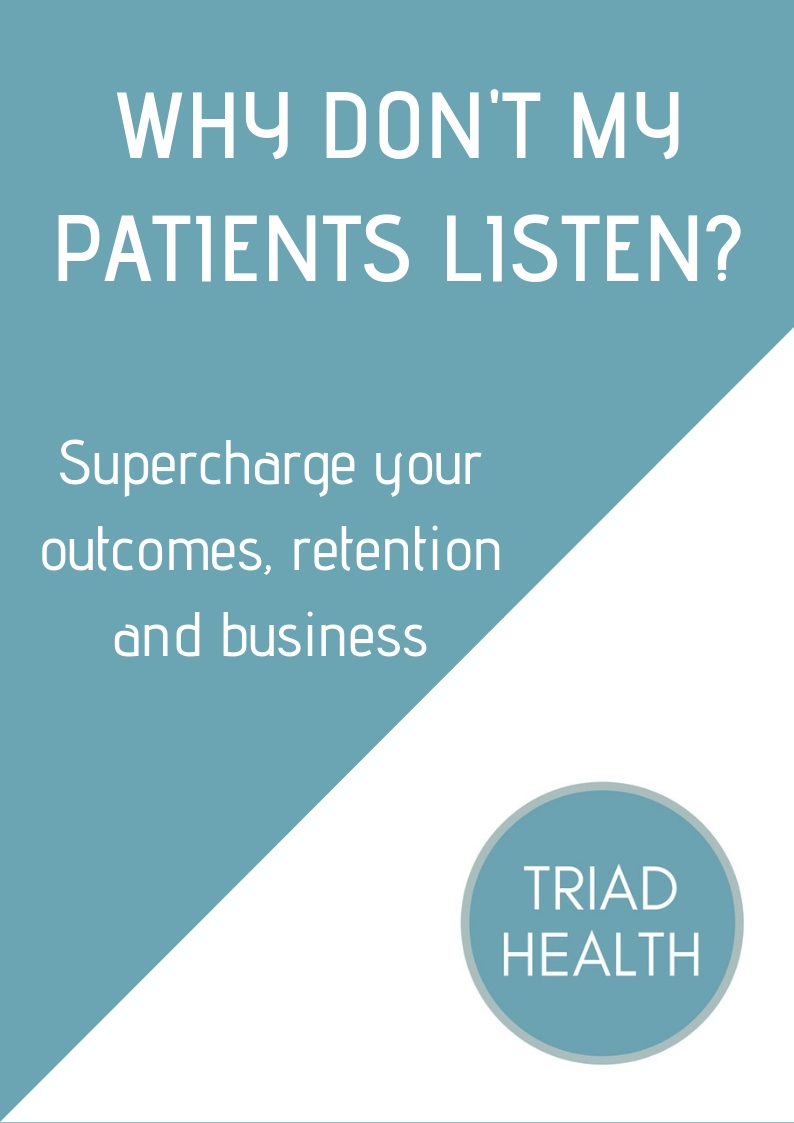 "Why don't my patients listen?" has been developed for new and less experienced (less than 5 years) Physiotherapists, Sports and Massage Therapists who want to live in a world where their patients listen to them and want to achieve better results for their patients and themselves.
Most Therapists who have learned lessons from section 1-7 have doubled their lists, and improved their reputation. Section 8 takes that one step further and gives you amazing techniques for growing your business fast but ethically! The course is packed with simple but effective techniques for supercharging the outcomes you achieve for your patients, your ethical retention rates and as a result, your business!
There are no gimmicks in the course, just lessons taken from customer service, sales and marketing, motivational interviewing, psychology and personal development and brought together into an accessible course by Therapists for Therapists. I wish I'd known this stuff when I started out 14 years ago.
There are eight sections:
The Treatment bank account: A new way to think about the patient journey and create exceptional patient experience
Sales techniques for Therapists: No dodgy deals here, just great ways to create engaged patients
Goals: How to set amazing goals that motivate both the patient and the Therapist. No SMART goals here thanks.
Brilliant explanations: How to explain your treatments and advice in a way that makes your patients listen!
Expect everything: How to manage expectations and turn complaints into positives
Confidence: How to boost your confidence
The Performance: Bringing everything together to create the perfect treatment session
Success!: How to build a Therapy Business
In each section you can get feedback and ask as many questions as you want.
We know how frustrating it is for Therapists to have to lose revenue by take time off to do courses, to travel, maybe stay overnight and to not know whether you can use the techniques until after you've finished the course. That's why we have created this course which you can do in your own time and at your own speed. Even better, you can work through a lecture, go away and practice the techniques, ask questions, and only move on when you want to. This way you can make sure you take as much as possible from the course and get amazing value!
All you need to do is to enrol, pay for the course and you will have lifetime access to all 8 sections to work through in your own time with support from me every step of the way.
This is not your average course. These aren't techniques that you can just use for one or two of your patients, you can use them with every single patient from this day on. We think you'll love it, but our money back guarantee is there so there's absolutely no risk! If you don't love it and you don't get brilliant results, you can have your money back.